News
Articles and chats about all things stitchery!


My next exhibition is at Scampston Hall Walled Garden
The Digital Cloth eMagazine - February 2022
I was delighted that my photo of my handcrafted felt limpets were chosen to be on the front cover of the February edition of the Digital Cloth eMagazine Issue 11.
I have a lovely 8 page article in this Australian magazine which is available to purchase
from Caroline at The Digital Cloth.


'Limpets and Barnacles' was created entirely from wool using the wet felting technique with wool yarn hand embroidery.
This was the first of my limpet studies, the work has sold and resides in Luxembourg.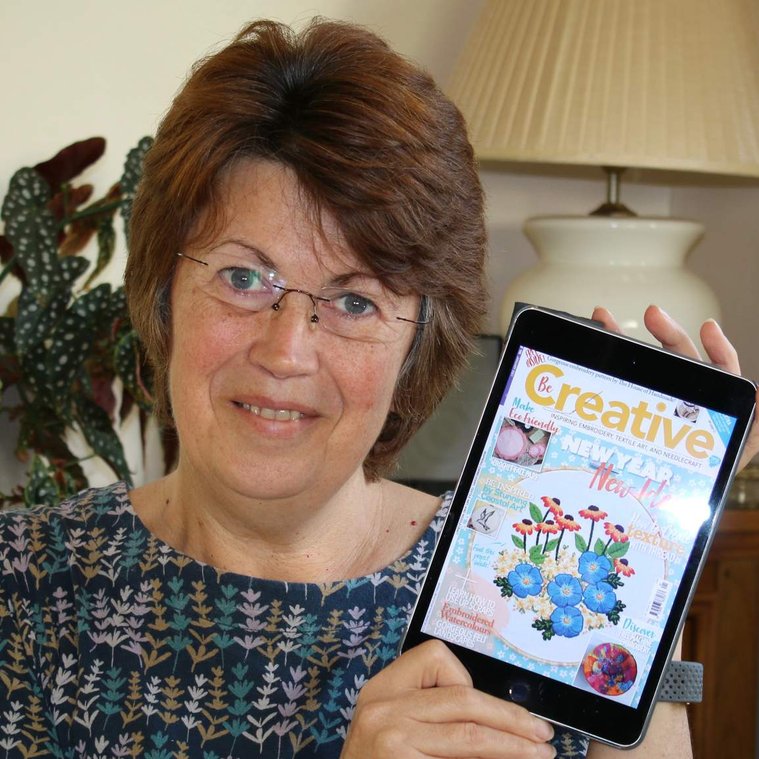 words | LYNN COMLEY
The beginnings...how I got started.
It was purely by chance that a felt making course was advertised during a visit to an Art and Architecture trail in the Peak District where I used to live. I was looking to learn a new skill one that I could possibly combine along with my love of walking and landscape photography. I was instantly intrigued and curious about the whole process so I enrolled and after learning the various basic techniques I soon became addicted. Felt making is such a lovely process, the ability to produce a piece of fabric that is totally unique and of your own construction is very satisfying. Felt has lovely properties, it can be made thick or very thin, other fabrics such as silk or scrim or thread can be incorporated into it, meaning you are able to produce a myriad of texture and in turn interest. It is soft and a joy to stitch into. The nature of the interlocking wool fibres means it is forgiving with heavy machine embroidery and equally hand stitches can be skimmed just under the surface which adds interest and a different depth or perspective to foliage for example. Felt making is an ancient craft and more recently one which is gaining in popularity as a creative medium. I hope my approach helps to bring a greater acceptance as an artform.
A few months after starting the felt course, my village art group asked if I would like to exhibit with them at the Derbyshire Open Arts event. So it was a frenzy working to a tight schedule creating sufficient work for the exhibition, then came a new challenge…framing! Using shop bought 'ready made frames' was extremely difficult given the unpredictable shrinkage during the felting process. I then realised the frames had to be bespoke, as trying to get my felt to shrink to a specific size was impossible. I now have a lovely framer that takes care of that for me!
Initially I was terrified of what people might think of my work; the fear of putting yourself out there for all to critique. However I was completely overwhelmed that virtually every picture I made ended up selling! It all seemed to grow from there and my UpandDownDale venture was born. I registered as a business, made my website, joined the lovely creative community on Instagram, then later I added my online shop.
The following year I applied for Derbyshire Open Arts as an individual artist and exhibited from my home. Having almost 200 visitors over the weekend, it was exhausting but a wonderful experience chatting and explaining the processes to people. Many visitors had not seen felt pictures before, thinking at first they were looking at acrylic or pastel pictures. I sold over thirty pictures which was a massive confidence boost.
My inspiration comes from my surroundings, I love being out in the countryside with my camera, every day is different, there is always something new or interesting to see as the seasons change. I have been fortunate to live in beautiful areas in the country, the Peak District and now the North Yorkshire Coast, so I take my ideas from my walks and things that interest me along the way. I especially relish a stormy day, the light is often fleeting but at its most dramatic on days like these. I like to try and capture this atmosphere in my work, I rarely produce blue sky day pieces but instead like to encapsulate the mood by accentuating cloud forms with texture and placing strands of silk to replicate light falling on a valley. For my foregrounds I like to stitch wildflowers found in the hedgerow, cow parsley being a favourite, the stitch adds another dimension and gives additional colour to the work.
I use my photographs rather than sketches as a starting point for my work and try to imagine being there again in person when deciding on composition, where I want to have the foreground, the mid distance and the horizon (vanishing point). It is surprising how 'painterly' laying out a piece of felt can seem. I build up layers of dyed wool considering form, line, colour, space and texture. Using similar principles a watercolour artist would with their paints. Layers of coloured fibres laid more densely create a deeper shade and laying one colour on top of another, as a painter would blend paint. Sometimes I lay just a few tiny strands of contrasting silk over a particular area emphasising the light, less is often more. Felt making is an unpredictable process! The carefully laid fibres move and react differently during the wet felting process, the whole piece may shrink by up to 30% or even more, but often reveals unexpectedly pleasing details, therefore I adapt my design ideas to each individual piece of felt, each piece I make is unique and virtually impossible to replicate.
Using free motion machine embroidery, hand stitching or both in my work and by adopting a freestyle approach I consider my sewing is more mark making rather than precise embroidery. Rarely ever drawing guide lines with a pen, instead I prefer to stitch freely, both with the machine and hand stitching but sometimes going completely off piste and letting the way the fibres lay determine where the next stitch will be rather than using my photographs as a reference. Thread selection is important too, I love to use natural hand dyed threads for hand stitching such as cotton, wool, linen and silk, especially the thick and thin of unevenly hand-spun threads. It all adds to the texture and creates little areas of interest within a picture.
2019 was a big upheaval relocating to Scarborough on the North Yorkshire Coast, back to my roots! I will always have a love for landscape and had expected the transition to include more seascapes, however I have found much of my focus has been on the minutiae of the landscape producing detailed studies of moss and lichens or limpets gathered from my beach walks. I like the time taken while working on one of these hand stitched studies limiting the variety of stitches I use in each piece of work, often using just two or three stitches (bullion knots and fly stitch are favourites). Using different threads, textures and size of stitch, it makes a nicer balance to the overall piece. The slower pace of hand stitching enables me to connect more with the subject matter. That connection means a lot to me. Nature is a wonderful engineer, the construction, form and mark making can be exquisite; it is worth getting your knees muddy for a closer look!

Most of all I still love experimenting, not everything is successful but I don't mind that and like to take something positive from how it turns out. I often think we learn more by mistakes or happy accidents as I prefer to call them. Stitch has "got me" though, as with photography it makes you tune in to the tiny magical details that nature presents to you. Instead of the 100th of a second it takes to create a photograph the connection you have with interpreting the subject with stitch is a more long lasting one, creating a connection and compassion with the subject. I am convinced this must release endorphins as does a walk in a beautiful uplifting landscape. Therefore my message to anyone would be to have a go, try a new skill, experiment, if it makes you happy and you can connect with nature during the process then it will be one of the most rewarding things you can do.
Lynn Comley is the guest today on the Stitchery Stories textile art podcast. Lynn works under the brand name of Up And Down Dale and the name gives us a clue as to the source of her artistic inspiration… the landscape around her!
Lynn has recently relocated from the Derbyshire Peak District to the North Yorkshire coast and has been enjoying several changes not just in her surroundings but in her artistic creations too. Lynn loves working with her handmade felt, with machine embroidery and increasingly, hand embroidery, to make the marks and highlights to her landscapes.
Susan Weeks chats with Lynn about:
An endless fascination with landscape and the sea
Inspiring vistas and miniscule worlds
A newcomer to textile art
Getting hooked into feltmaking
Leaping into exhibiting with Derbyshire Open Arts trail
Moving from hobby to business to meet demand for her work
From novice stitcher to addicted stitcher
It's not embroidery, it's mark making with thread
The delights of thread
How to recreate inspiring scenes in stitch
The patterns of the sea on the beach
Experimenting with collagraph printing and felt
Choosing Stitchery Stories over the BBC and Nick Knowles
The Society For Embroidered Work
Learning from failures and revisiting them
The pro's and con's of doing commissions
Go with the flow
Getting over creative block
And so much more!
NEWS
In July 2019 I relocated from Parwich in the Peak District National Park back to my hometown of Scarborough on the beautiful North Yorkshire Coast. As the Peak District landscape inspired much of my previous work l am sure the beautiful North York Moors landscape and hedgerow will form the basis for much of my work, along with the occasional coastal scenes!
Please follow me on Instagram to see what I am currently working on!
23.10.2018 - I am delighted to announce that I have been accepted into The Society For Embroidered Work. I am honoured to be part of this esteemed group of artists. The aim of S.E.W is to 'Promote and support the best in stitched art worldwide'

www.societyforembroideredwork.com
Arts Beat Magazine - May 2018
Past Shows / Exhibitions
Helmsley Walled Garden. The Orchid House. May - June 2022
Exhibiting with Embracing Wool textile Group
*****
Listen to me being interviewed for Stitchery Stories Podcast. by Susan Weeks.
*****
Derbyshire Open Arts 2019
Spring Bank Holiday Sat 25th to Mon 27th May
10am to 5pm daily
An exhibition of my work from my home studio in the beautiful Peak District village of Parwich.
*****
Studio Gallery Brierlow Bar, Buxton
An exhibition of some of my work
16th November to 12th December 2018 Brierlow Bookshop, Buxton on the A515, Derbyshire.
*****
PitchBlue Creative
Saturday 24th & Sunday 25th November 2018
PitchBlue, Newbridge Works, Coldwell Street, Wirksworth, Derbyshire DE4 4FB (Next to the Steam Trains)
*****
The 25th Dame Catherine Arts Summer Painting Exhibition 2018
The event is the largest painting exhibition in the Midlands. About 180 amateur and professional artists are involved with over 1000 pieces of original work on display, that range in price from £20 up to several thousand. It's a very impressive show with a valued reputation that attracts a large number of regular visitors, with over 1200 visitors during the weekend.
• Ticknall Village Hall and School, Ingleby Lane, Ticknall, Derbyshire. DE73 7JW
• Champagne Preview Saturday 25th August 2018 7.30pm – 10.00pm. Tickets £7.50
• Sunday 26th August 8.00am – 7.00pm £2 entry
• Sunday 26th August – Featured artist talk
• Monday 27th August 8.00am – 5.00pm £2 entry
More Info: Dame Catherine Arts Website
*****
Parwich Art Show
Sunday 26th August 2018 10am to 5pm
The Memorial Hall, Parwich, DE6 1QB
*****
Pitch Blue Pop up Art and Makers Sale
Saturday 23rd and Sunday 24th June 10am - 3pm
Pitchblue, Newbridge Works, Caldwell, Street, Wirksworth, DE4 4FB
*****
Derbyshire Open Arts 2018
26th to 28th May 2018
Derbyshire Open Arts Webpage please click here
*****
The Green Man Gallery - Spring Gathering Exhibition, Buxton. 30th March to 25th April 2018.
******
Derbyshire Open Arts May 2017
******
Alstonefield Christmas Fayre 2017